My Magic Road Trip
Rediscover the magic of travel!
How often times do we rush to places and miss out beautiful things along the way?

For those who are seeking magic moments while travelling from A to B Mazda created an unforgettable travel experience. It will take you to unknown and breathtaking places!
>> you can win this amazing trip, sign up here: www.mymagicroadtrip.ch

We were already lucky ones who got to partner with Mazda Suisse and did participate the #MyMagicRoadtrip?
So, let me take you to our Swiss love trip!
What you will need for the trip? Time!
Otherwise you will miss out the peace & joy which the getaway brings.
On Thursday, 1pm we picked up our car (a Mazda CX-5) in Zurich-Oerlikon. After a brief introduction we were ready to leave Zurich. The trunk was filled with a deliciously loaded picnic basket provided by Farmy.ch. The first 30 minutes were devoted to our vehicle - my husband was beyond excited to get to drive it and could not stop explaining me the details! ;) To be honest, I did feel him! :)
The final destination, as well as suggested routes to get there are saved in the GPS.
Since I tend to easily get carsick (when driving curvy roads) we decided on avoiding these roads and stopping in Thun for a break at the lake. Thun is an absolutely stunning town, where people will friendly greet and welcome you. My husband also managed to attend a surf session on the river in the centre of Thun. We stopped, stared (even though we know this place pretty well), swam and then headed further.
Next stop: Blausee. A place I wanted to visit for a while, but never took the effort to do. Thank you Mazda for finally showing me this place.
SIDE NOTE: I thought I had never been there, but as soon as we arrived I was like: "Oh JEEZ, I think I was here when I was like 8 years old, fishing with my classmates) :)
We arrived after 5pm, which was a good thing because the entrance fee was reduced to CHF 5.- (instead of CHF 8.-). We took our picnic basket with us and enjoyed a very Swiss dinner by the lake.
Around 7pm we left the park and headed to our final destination for today: Adelboden (or even a little further up: Engstligenalp).
Everything along the way is soooo picturesque and green.
Beautifully and carefully decorated Chalets, farms, cute little grocery and farm stores (I recommend stopping by at a farm shop and buying locally produced Swiss cheese or other specialities, fresh fruits / vegetables)!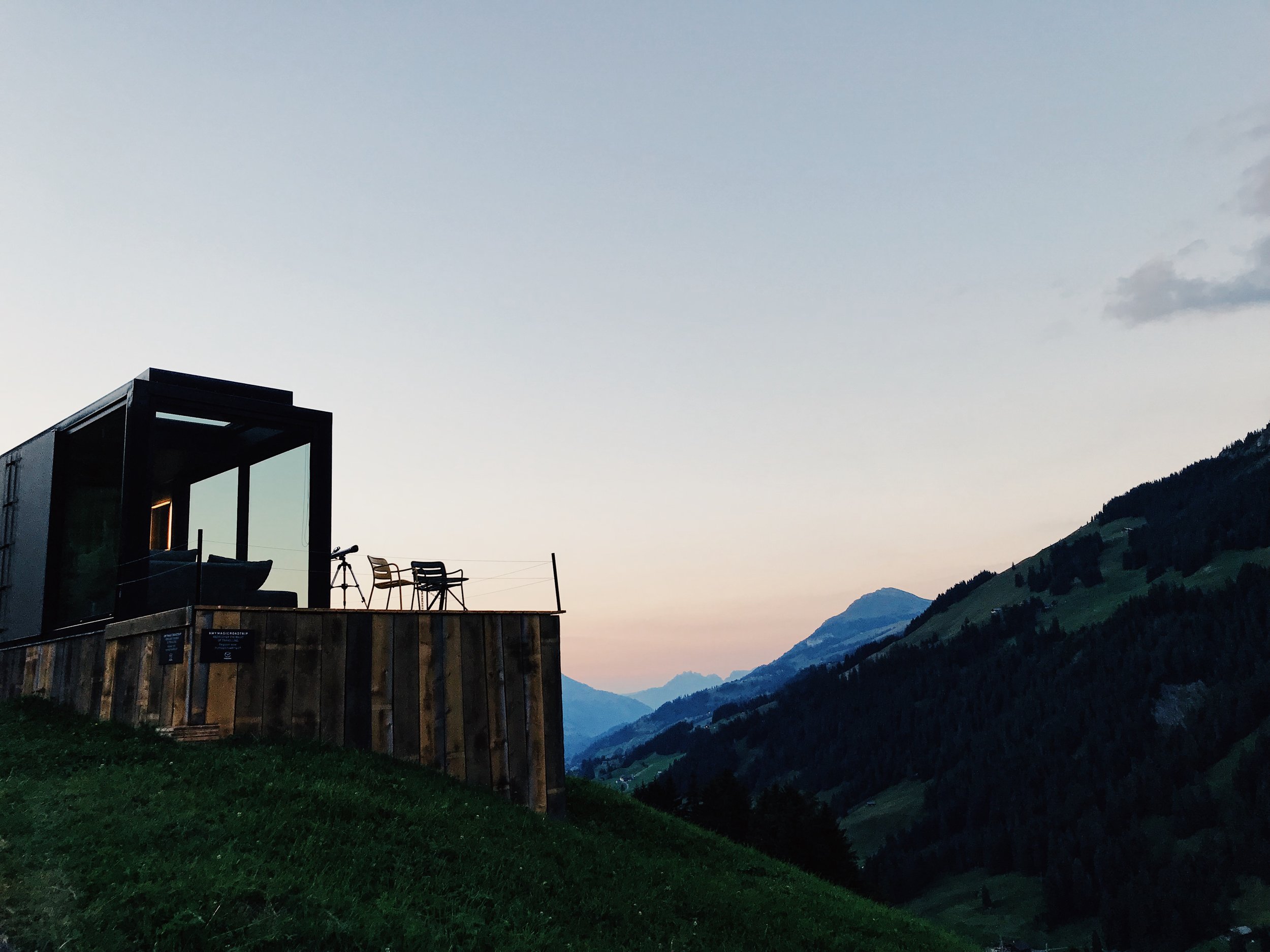 The cube, where we got to reside for one night was high on top. From up there we enjoyed an incredible view overlooking Adelboden. The accommodation was incredible! There was a coffee machine (with coffee pads from La Mar), a super modern bathroom by Geberit, sleeping bags and a travel guide. I definitely could have stayed for a few more nights. I slept like a baby and in the morning I went on my morning run (around 6.30am) and enjoyed the calm and super fresh air!
Since becoming a mummy the most precious gift you can give me is time! Time to breathe, to sleep, to slow down, to unwind, to refuel and foremost: to spend some alone time with my husband! Thank you Mazda Suisse for that tremendous gift, I will forever treasure those moments in my heart.